Allways Roofing would like to share with you one of our roofing projects. The project is specifically on a flat roof renovation. This project will be documented showing the stages that we have carried out including photos of our work and the roof work itself. You will be able to see for yourself the work that has been undertaken and the quality of workmanship the Allways Roofing team offer to its customers. Please read on….
For more information on flat roofs please read our flat roof information page
To see photos of our flat roof work view our flat roof gallery
To learn about our flat roof work view our flat roof services page
Project Details
Project Date: July 2010.
Project Category: Flat Roofing Project
Project Location: Berkshire
Customer Request: Allways Roofing were asked to replace a damaged and leaking flat garage roof. We are asked to remove an old flat roof, replace the worn and damaged roof material and then replace with new materials, then refelt and coat with anti solar reflective coating.
Stage 1 – Removal old roofing materials
The first stage was for our team to remove the old felt so that we can get to the original boarding surface. Once the old felt was removed we started to remove the old worn original roof top boarding. The original board was clearly aged and proved easy to remove. It did not take long to get down to the original horzontal structural beams as can be seen in our photo (See Photo 1A) The beams underneath were still structurly strong but a couple of beams needed replacing.
Stage 2 – Clearence of the old and unwanted roofing materials.
On all projects is our responsibility to remove the unwanted materials and dispose of them. Our roofing team have large industrial trailers so we have the required transport to remove and ispose of the unwanted materials. We dispose of all materials in a reponsible manner and do not apporve of those who do not.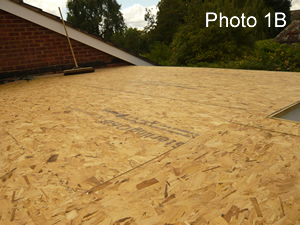 Stage 3 – Reboarding the new flat roof
Once we had got the old roof material removed, strengthened the horizontal beams and replaced any beams we were able to start to reboard the flat roof top. The new boarding was strounger and thicker that the original flat roof that was removed. it was going to be stronger and last for longer. Using a thicker boarding material allows for a longer roof life for our customer.
Stage 4 – Re-felting the new boarded flat roof
Before re-felting the newly replaced flat roof material with felt we ensure the material is free from loose particles, rough surfaces and splinters to prevent any damage to the felt from underneath once layed by our team (See Photo 1B). After sweeping the surface we are ready for the next stage which application of felt also known as re-felting.
Stage 5 – Fittinging of the roof felt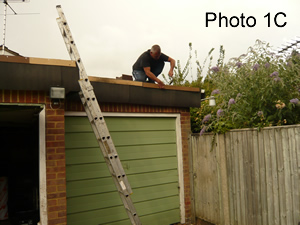 Re-felting the flat roof is a very important stage and makes the flat roof waterproof. Our team take care and consideration at this point to ensure the correct overlapping and size of the felt required to create a quality finish and prevent any leak points (See Photo 1D). It is important when felting a flat roof to fix down the felt correctly so that it is tight and does not move after being fitted. This is especially so when you are going to coat the felt with a treatment as in this project. Failure to fit the felt correctly in this case could cause future problems and reduce the life of the flat roof. It could also lead to water catchment areas or leaks. You can clearly see us fixing down the edges fo the roofing felt in the next photo. (See Photo 1D)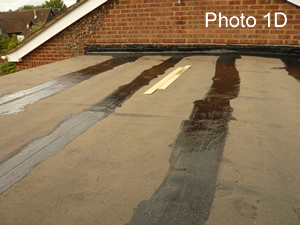 Stage 6 – The Application of Anti Reflective Solar Paint
The application of Application of Anti Reflective Solar Paint is a good way for any property owner to reflect the solar rays and keep the room under the flat roof at a manageable temperature. The paint selaed the flat roof and can give a professional good looking flat roof.
This project is now finished. The finished flat roof can be viewed below.
If you require a project like this yourself please contact us or request a free quote from our team. If you wanted to look